Life is Too Serious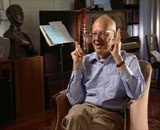 George Dreyfus, Composer
"Life is too serious to be taken seriously"
These words are written by the subject of this film, George Dreyfus. They are scribbled on the score for his Symphony No.2. They capture the essence and the contradictions of the man and begin to show us why this has to be a film as much about the man as his music. George Dreyfus is a man whose personality is as unique as his music. He is at once composer, musician, conductor, intellectual, entertainer, clown.
Dreyfus is a survivor. A German Jew, he escaped Nazi Germany, coming to Australia in 1939 with his parents and brother. Here, he built an enormously successful musical career spanning half a century. He is known in this country as one of our most prolific and innovative composers. His work ranges from operas to film and television scores, from chamber music to children's songs, from symphonies to advertising jingles. He is also a figure of some controversy. His career is littered with devastating conflicts and catastrophes. There is a feeling held by many that the music establishment has never taken him seriously.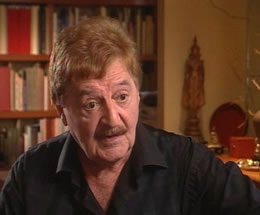 Peter Sculthorpe, Composer
"Life Is Too Serious", on one level, is conventional biography. Friends, colleagues, critics, and Dreyfus himself reconstruct the main chapters and themes of his life. The film also contains an eclectic mix of his music, most of it filmed especially for this documentary. We see Dreyfus in rehearsal with the Tasmanian Symphony Orchestra and Deborah Conway. Other works are performed in locations as diverse as Montsalvat in Melbourne and Wuppertal in Germany.
On another level, the film is a kind of psychological road movie. As we travel from Australia back to Dreyfus' place of birth in Wuppertal, Germany we go on more than a geographical journey. We go on a journey around the psyche of one of Australia's most complex artists. Film maker, Don Parham, has built a reputation over the last decade for penetrating and provocative essay films. He continues this style here, which makes for an interesting approach to an arts documentary. It is a necessary approach if we are to get below the surface of a character as elusive, mysterious and idiosyncratic as George Dreyfus.
Dreyfus is a restless spirit wandering between worlds. His universal appeal lies in the way in which he deals with his inner demons - through his intellect, his humour and his music. He draws us into deeper places. Few can resist his unique charm. As he says at the end of a performance -
"You can clap now ... using both hands!"