Big People Small People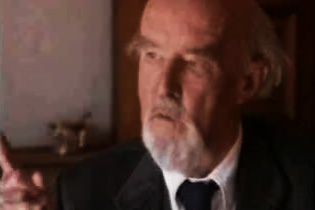 Prof Manning Clark, Historian
This two part documentary explores the issue of wealth and poverty in Australia. It deliberately does not pursue a journalistic or academic approach to the subject. This statement may seem to be contradicted by the fact that much of the program is spent talking to politicians and academics. Let me explain...
Early in the documentary Andrew Hay (Businessman and prominent spokesman for the New Right) is asked, "Is it inevitable to the human condition that the strong will always crush the weak?" He replies with his usual candour, "Yes that's an absolute inevitability and it must be treated as such; governments ought not to interfere with that process!" Cut to Prof. Bettina Cass (Dept. Social Policy, Sydney Uni) who says, "There was a period in the 80's when to be both rich and without any particular concern for the welfare of others in the community was lauded. I hope that the 90's will see an end of that, and that notions of social justice will become much more strongly entrenched." Cut to Michael Leunig (Cartoonist) saying, "I think the Right and the Left represent very nicely the division within society and the division within the individual, a divided community, a divided self, a society at odds with itself, in conflict, irreconcilable and all the anxiety that goes with those, all the insanity of division, a kind of a struggle, a fruitless struggle."
This documentary is political, but it seeks to go further in tackling such a vast, elusive subject as wealth, poverty and the bits in between. It wishes to give many voices a hearing, to create a complex dialogue with many players through which something clearer will emerge. It places itself in opposition to the ethos of cynicism and despair, and is driven by what many would see as a naive notion that, as Prof. Manning Clark puts it in the program, "We are all taking part in a great debate, the whole of humanity is now engaged in a great debate, and this great debate is - if you were given the opportunity, what sort of society would you build? "This question underlies the approach taken in this documentary. As we move briskly across the vast terrain of this labyrinthine subject we never lose sight of the fact that we are dealing with something where the stakes are high, and although we like to refer to some involved as players, it is anything but a game. And yet all along the way there is humour as we see parade before us a kaleidoscope of ordinary and extraordinary characters full of wit, charm, and insight.
The program opens on Matthew, a final year student from Sydney's most elite private boys' school, Scots College. Although it is not said on camera, Matthew's best friend just happens to be John Hewson's son, and he is already familiar with parties hosted by the likes of Rene Rivkin and others. Matthew is asked, "Why do you think we don't have revolution in this society?" He thinks for a moment, and then replies, "The smaller people have to get their money from the bigger people, and if the smaller people revolt on the bigger people they're not going to have any money to buy the things they need to survive, so they're just kicking themselves in the butt as it were."
Old and new Parliament Houses, Canberra, ACT Australia
And so this two part documentary kicks off, as its title suggests, on a rather "idiosyncratic journey through wealth and poverty in Australia." Over the ensuing two hours we travel somewhat randomly from the right side of the river to the wrong side of the river... and back. We enter into a wonderfully colorful dialogue with an endless parade of "big people and small people". We go via pollies and patriots in Canberra, the street kids in the centre of Sydney, the beautiful people on the right side of the fence at the Melbourne Cup, and the not so beautiful people people on the other side. We are not afraid to visit the Hare Krishna temple looking for answers, neither do we shy away from approaching the ragers at Paramatta Leagues Club whose response to questions about the class struggle goes something like this, "If you've got money, doesn't matter, all that matters is if you're havin' a good time."
We see some surprising responses to the statistic that 10% own 60% of the wealth in this country, and we challenge many of our favourite myths, beliefs and ideas about dream homes, egalitarianism, standard of living, greed, survival of the fittest, the individual verus the collective, de-regulation, the work ethic, charity versus structural change, free market economics, and so on and so on and so on...This program is not for those who have become numb to talk. If one reviewer described my last doco as "bristling with ideas" then this one is exploding with them. But hopefully it is not chaotic, and hopefully it has come somewhere near achieving its aim to be balanced, intelligent, layered, engaging and entertaining.Its approach is premised on unashamedly idealistic notions like these - that both the head and the heart should be fed in a doco; that more voices should be heard in important debates; and that truth can emerge through the fog. As Michael Leunig so eloquently puts it, "That voice must stay alive, that sort of naive voice if you like, the voice of the fool which has always been valued in societies, if you must call it the voice of the fool, the innocent, because that voice is often the guardian and the reservoir of the truth of human existence, not the economist."